Are you ready for a new 6 week challenge?
We are launching 'The Bridgwater Way Summer Treasure Hunt' on 22nd July and it will run until 1st September. It is a fun activity for children and their families to enjoy time together, hunting for virtual characters in local parks using the BetterPoints app and getting the chance to win some fabulous prizes!
The Storyline...
A giant wave has crashed into 5 local parks leaving a trail of colourful beachy items, can you find them?
Earn BetterTickets for each item found to win great prizes, make sure to avoid Sneaky Sammy Seagull!
At the end of the challenge winners will be picked based on the number of BetterTickets they have earned during the challenge:

GRAND PRIZE - 1 Year family membership for the National Trust worth £140
6 x £15 Showcase Cinema e-vouchers
6 x £15 National Book Token vouchers
6 x £15 The Entertainer e-vouchers
6 x £15 Pizza Hut e-vouchers
Take a stroll as a family in any of these participating parks:
Stockmoor & Wilstock - Cowslip Walk Park TA5 2FY, Shire Street Playground TA6 6FS and Romney Road Playing Field TA6 6WQ
North Petherton - Parkersfield Playing Field TA6 6PN and Memorial Playing Field TA6 6SR
Additional locations will be revealed later!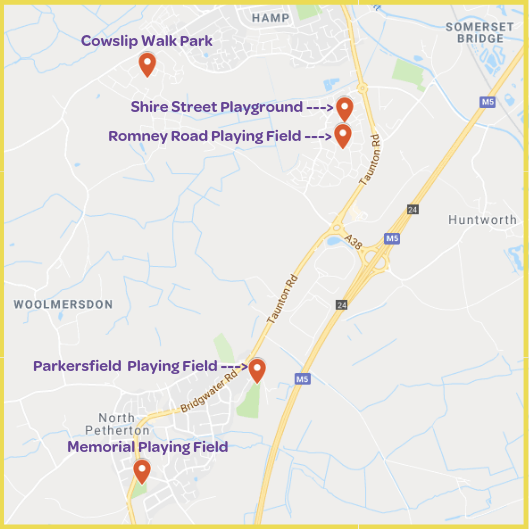 In the meantime, why not take a walk around Bridgwater with your family? Just click the play ▶ button in the upper right hand corner in your BetterPoints app and start a 'walk'. Earning high street vouchers or money for your favourite charity or community group has never been easier!
How do you join in?
Go to your BetterPoints app menu, visit the programmes tab and you will find that The Bridgwater Way Summer Hunt will be available to 'join'. Make sure you join the programme to participate. Then from 22nd July track a walk as a family in the participating parks above and start collecting the Treasure Hunt characters and chances to win one of our prizes.
If you are new to BetterPoints click below to download the BetterPoints app.
Watch a short video here to get you started or follow these instructions:
1. Download the BetterPoints app from the App Store or the Google Play Store.
2. Tap 'Sign up' in the app and fill out the form
3. You will be eligible to 'opt in' to The Bridgwater Way BetterPoints Programme due to your postcode, and the Summer Treasure Hunt. There will be a welcome message about this on your timeline in the app.
4. Tap the Play ▶button in the top right corner of the app.
5. Track your activity via Automatic (always on) or Manual Tracking (when you want to track a specific activity).
6. Start earning BetterPoints and BetterTickets!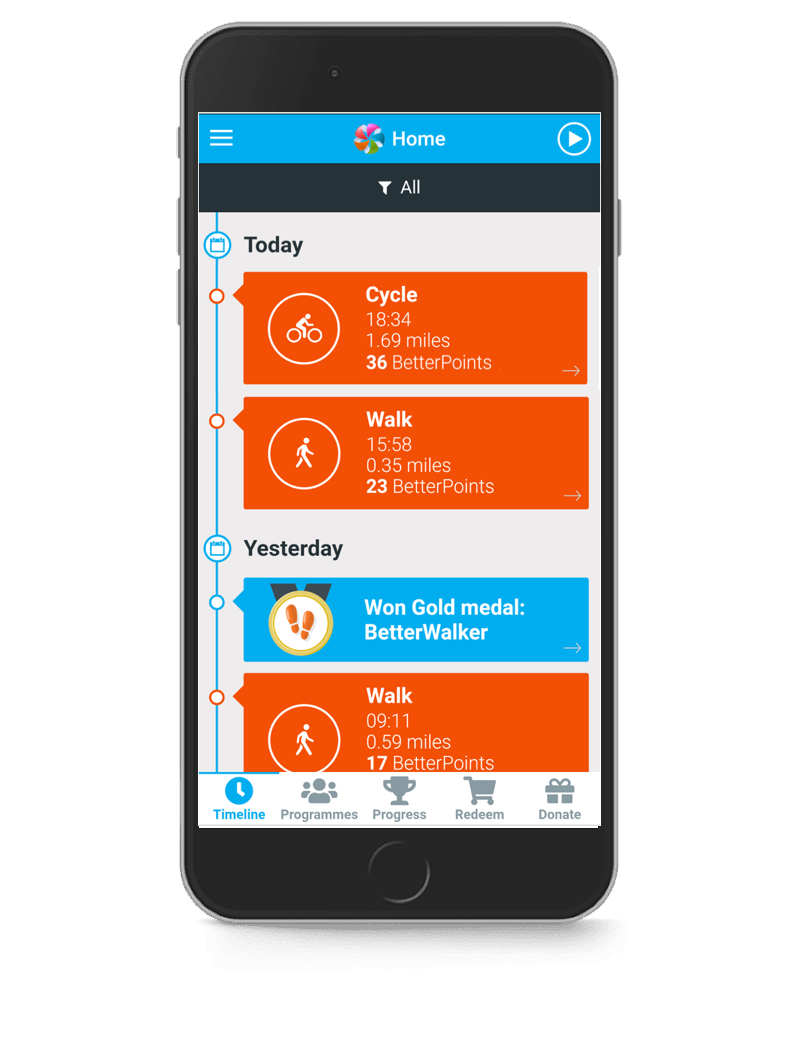 The Bridgwater Way is a project focused on helping to keep Bridgwater moving as the town goes through a period of significant growth and investment. By providing information, advice and tools people can choose the best time to travel and routes to use. It includes investment in new roads and improvements to existing roads and junctions, as well as miles of new and improved routes for pedestrians and cyclists. It also offers active travel initiatives to make getting to work or school easier and safer.
Terms and Conditions
This is a day time activity, only. Children must be accompanied by a responsible adult. Participants must wear suitable clothing, shoes, take a drink with them and use sun cream, as applicable. Participants must be respectful of their surroundings when taking part in the Summer Treasure Hunt. For emergencies, please call the emergency services.
You must live in The Bridgwater Way area. Users, who do not fulfil the programme eligibility criteria, will be not become members of the Summer Treasure Hunt programme regardless of whether they enter the referral code. For more information please read our privacy policy.